---
Can you name the states?..*smile*
---
---
Seph Business Cards?
Hi!.. *smile*.. Seph here.. *giggle*.... and Yes... I have my own business card.. *smile*... I hand them out at State gatherings... but it didnt seem fair that people who could not attend these events didnt get them.. so.. *smile*.. in typical SOI fashion.. we are going to do something which noone has done before.. *smile*... Give away business cards by mail!
---
This is the first business card.. and when this card is gone.. we will not be reprinting.. so act now.. *smile*... it makes a nice little keepsake.. and we will send you a few so you can pass them out to friends and family.
---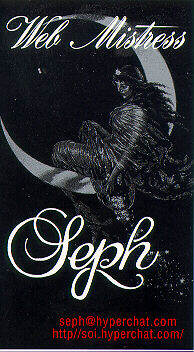 To obtain my Business Card, Send a Self addressed Stamped envelope to:
State of Insanity
P.O. Box 51045
Colorado Springs, CO 80949-1045

Just say.. Give me some Cards!
*smile*

---
BTW... Did I mention I was Naked?
---
---
Copyright©1996 by CHI., All Rights Reserved.
---